Published by: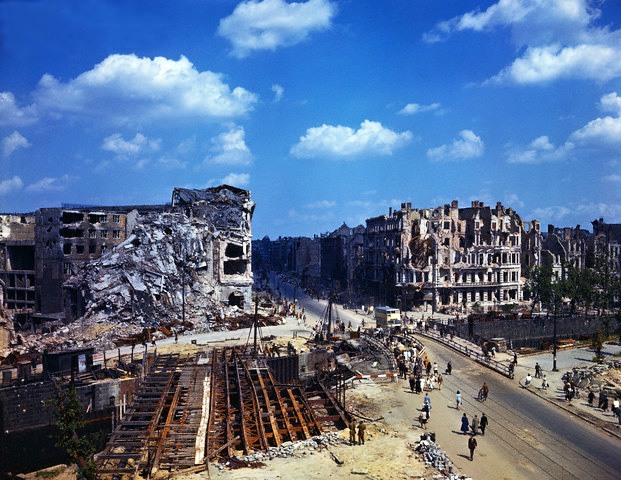 Easter – is the Holiday of Holidays and Celebration of Celebrations! Every year we wait for It and experience special joy, standing in front of the closed doors of the church, and wait again to hear the priest's exclamation of "Christ is Risen!" And answering with all those who pray together "Truly He is Risen!". And yet each Easter is, in its own way, special, unique.
Today I'm remembering the long-past Easter of 1945, in a hungry Germany, just before the very end of the Second World War. It is so completely different from our magnificent and plentiful Easter outfits and tables here, in the satiated and rich America.
Our family was then in besieged Berlin in our friends' house in a more peaceful area. All of Berlin was already occupied by the Red Army. Holy Week was approaching. Soon it would be Easter. We all ate so poorly at that time, there were so few things that could be bought in grocery stores; that we didn't even think about kulich and pascha, and there were no eggs at all. According to the food cards, some amount of butter and meat were supposed to be allotted per person, but they weren't for sale. Store shelves were empty. But on the streets of the battered city lay many horses killed in the last battles. These horses were disemboweled, cut into pieces and distributed to the public. We also received our share.
Of course there wasn't any transportation through the city. The tram rails of and pavement were so broken that it was possible to walk around the city only either on foot or by bicycle. Many beautiful bicycles were thrown on the streets, with little damage. We picked them up, repaired them and rode them around the city. At first, it was impossible to get to the church, which was in the center of the city. But our parish priest, Father Michael (I do not remember his last name) was with us in our friend's house. He served the Matins for all of us tenants, who gathered in this house. Two Red Army servicemen came to us at night, stood through the matins and left. They didn't stay for our mod
More