Published by: Pavel Borisovich Molchanov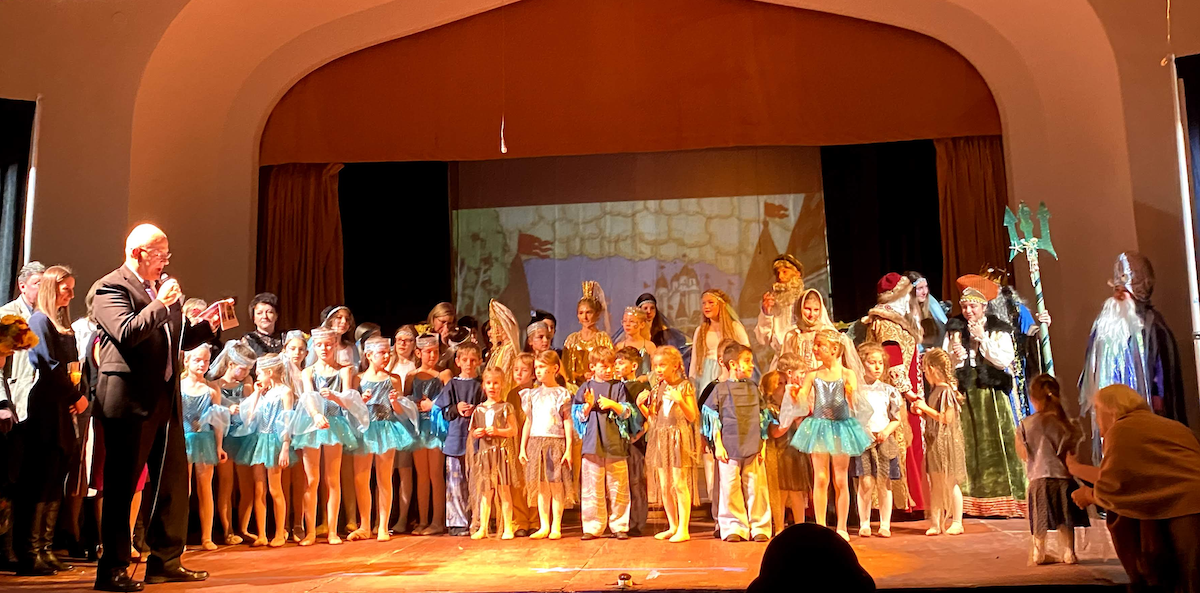 The Christmas holidays ended with a wonderful Christmas performance by our Russian school. So much effort and labor was invested within half a year by everyone who worked on the play.
A special thanks to Vyacheslav Nikitin and Ekaterina Andrievskaya for their leadership and staging of the play. There was great work with actors, preparation of sets and costumes and the organization of parents and assistants.
Actors and performers:
Old Man - Dmitry Nikitin Goldfish - Aleftina Yericheva Old Woman - Lisa Ben-Zvi The Old Woman-Noblewoman - Anisya Zudenko Old Woman Queen - Sonya Andrievskaya Travelling Queen - Maria Hetchinova Sea Tsar - Fyodor Zimovsky Advisor to the Sea King - Eric Willis
Jellyfish: Elizabeth Derkach, Anastasia Saima, Elizabeth Stekunova, Isabelle Agaronova, Aurora Schneider, Alisa Derkach, Sofia Zisk, Valeria Breya.
Seahorses, lobster, squid: Alexey Eliseenko, Andrey Palon, Alexey Mamizhev, Philip Poltarakov, Maksim Zektser, Ivan Chabanyuk-Lapitsky, Philip Morin.
Fish-Sisters: Eliseenko Dariya, Zudenko Kira, Nicole Schneider, Ovsyuk Alina, Kogan Victoria, Kogan Alexandra
Fishes: Maria Khechinova, Alexander Kochergin, Nicole Hramov, Ashley Hramov, Dasha Vishnevskaya, Emilia Lapitskaya.
Waves: Veronika Ilinska, Anna Andrievskaya, Elena Tazina, Alisa Pena, Alexandra Vasilieva, Anastasia Vasilieva
Servants: Ivan Nikitin, Ilya Maltsev
Nobles, Boyars, Townspeople: Ivan Nikitin, Agaronov Alexander, Ilya Maltsev, Alisa Pena, Alexandra Vasilyeva, Anastasia Vasilyeva, Lisa Ben-Zvi, Maksim Chabanyuk
Boyar's wife - Alice Peña,
Guards: Alexandra Vasilieva, Anastasia Vasilieva
Costume Assistants:
Irina Vishnevskaya, Alena Romashenok, Svetlana Yericheva, Irina Tazina, Yana Khramova, Natalya Pena, Klavdia Hetchinova, Anna Zudenko, Ekaterina Andrievskaya, Ekaterina Derkach, Victoria Vasilyeva, Olesya Sarimsakova, Elena Zektser, Maria Saima, Lyudmila Zovys, Ogul.
Production of scenery and props:
Slava Nikitin, Maksim Kudinov, Svetlana Yericheva, Alina Lapitskaya,
More